Claymont Mansion Receives Restoration Grant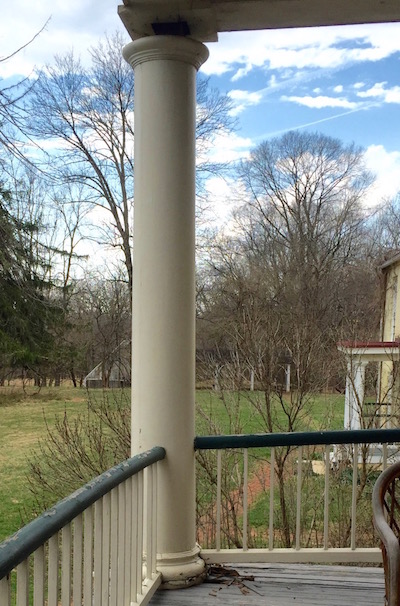 The WV State Historic Preservation Office has awarded a preservation grant to the Claymont Society to restore a deteriorated porch column on the Mansion's southwest side.
During a visit to the Mansion, SHPO staff encouraged the Claymont Society to apply for a grant to repair the structural column. This is the 5th WVSHPO grant to be awarded to the Society. The grant is a one-to-one matching grant, meaning the Society must match funds received from the State.

South Veranda Restoration Project Completed!
Thanks to your generous donations last year, we successfully completed a structural project on the Mansion's south-facing veranda by repairing a rotting column and replacing the bannisters and flooring. Below are some before and after pictures. It looks beautiful – Thank You!
---
This Year's Project: The North Portico
We've been fortunate to receive another matching grant from the WV State Historic Preservation Office.
As a result, we need to raise $12,000 to match the cost of the portico restoration, which totals $24,000. We've already passed the halfway mark, raising more than $7,500 so far. Please 'chip in' to help us reach our goal!
Below you'll see the attention the portico needs, from structural brick pointing, column and roof repair to overall weatherproofing and beautification of the main Mansion entrance.
Please Donate
We have a commitment and responsibility to restore and maintain the integrity of this magnificent building, to honor the people, including the slave labor,
and the natural resources used to build it, and the deep spiritual work housed here over the Society's forty-four year history.
Please help us continue.  You can give your tax-deductible donation using the donation button below or by check to the Claymont Society, 667 Huyett Road, Charles Town WV 25414.

Remember, your donation is tax deductible and each dollar you give is matched by the grant and helps us reach our goal of $12,000!
Thank you for your continued generosity and support of what we hold dear here at Claymont.